Tips and Tools for Finding Photos
If you have hundreds of iPhone/iPad pictures and you find yourself swiping and browsing your photo library, you might consider the tools that are available to help you find photos.
The Photos app provides a Search function  makes it easy to find photos of a person, place, event or thing. 
Access the Search tab by tapping Search on the lower right of the Photos app.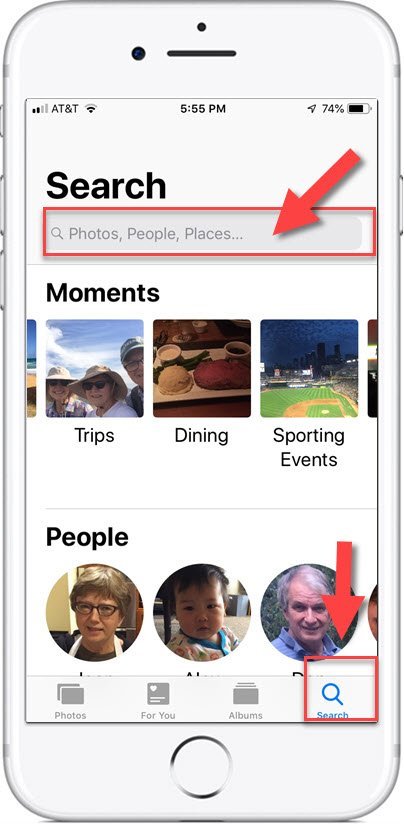 You are presented with a Search bar with other headings like Moments, People and Places.
Scroll down and you will see search suggestions that include:
Moments – collections from events and themes found in your photos
People – the Photos app automatically groups photos by the faces it finds.  
Places – Map locations that have groups of pictures are displayed
Categories – Photos with similar objects are grouped together
Recently Searched – Previous searches in the Photos app.
Take some time to browse these grouping to give you a sense of how the app is organizing your search tools.
Search Bar
Use the Search bar to enter search terms.  Consider people, places, events and categories, even those that were not identified in the groupings automatically created.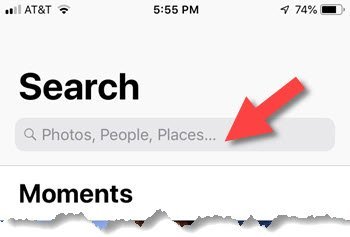 Take some time to experiment with search by searching for items that you know are in your photo library.  For example, I can search for lake, ocean, tractor, tree and find photos with those objects.  Experiment by searching for a State that you traveled to.  Try events or dates.
Search with Siri
You can also search your photos collection using Siri.  Here are some sample searches that you can use:
Hey Siri:
Show me photos of concerts
Show me photos of one year ago.
Find my photos of Arizona
iCloud Link Required
The Search and collection tools require that you are connected to iCloud and have the iCloud Photo Library turned on.  Information on this can be found in Senior Tech Recipe #404 How to use iCloud to expand and optimize storage.
Tip:  Get to understand Searches, people and places in order to find specific photos on your iPhone.