How to Order Photo Prints using the Walgreens app
Although it is easy to share photos from your iPhone using the Share functions in the Photos app, there are occasions when you need to order prints that you can give to older parents or holiday cards that you send during the holiday season.  
Using the Walgreens app, you can select and order prints directly from your phone.  After the process is set up, you will find this easy and convenient and will allow you to pick up your prints at the store in often less than an hour.  
Also, you don't have to transfer your photos by sitting at the kiosk they provide in the store for this purpose.  
This Nugget will walk you through the steps.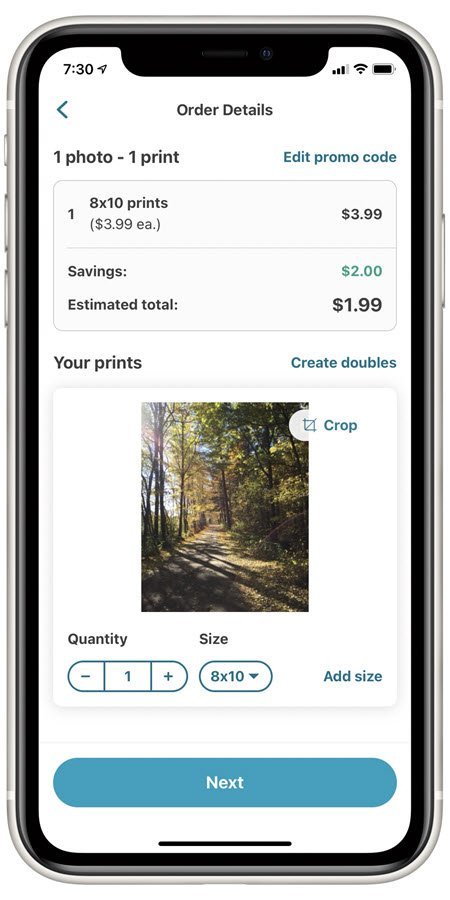 Before you Order
There are a few setup steps before you can start placing your orders.
Create an account at Walgreens.com.  Get started by clicking on Account in the upper right corner and choose Register and enter your name, email and password.
Install the Walgreens app from the Apple App store.
Log in to the app using your account information.  
Look for a photos discount coupon code on Walgreens.com website.  Use Safari or your favorite browser and go to https://photo.walgreens.com to go directly to the Photo center.  Look on this page for deals.  Click through to find the coupon code and write it down so that you can use it in the app.  Coupon codes will not be offered during the order process. 
Here are the step-by-step details for ordering prints from your iPhone using the Walgreens app.  (Don't forget to look for a discount coupon code before you start this process!)
1  Launch the Walgreens app
2 Tap the Photos icon on the lower right
3 Tap Prints or other product that you wish to order.
4 Tap Your Device as the location for Import Photos
5 Tap a recent photo to select it and place a checkmark on it or…
6 Tap All Photos to switch to an album like Favorites or custom album on your iPhone.
7 Tap Next to continue.
8 Select the desired size and quantity.
9 Tap Add promo code in order to enter the discount coupon code you had found before starting the order.
10 Tap Next to continue the order.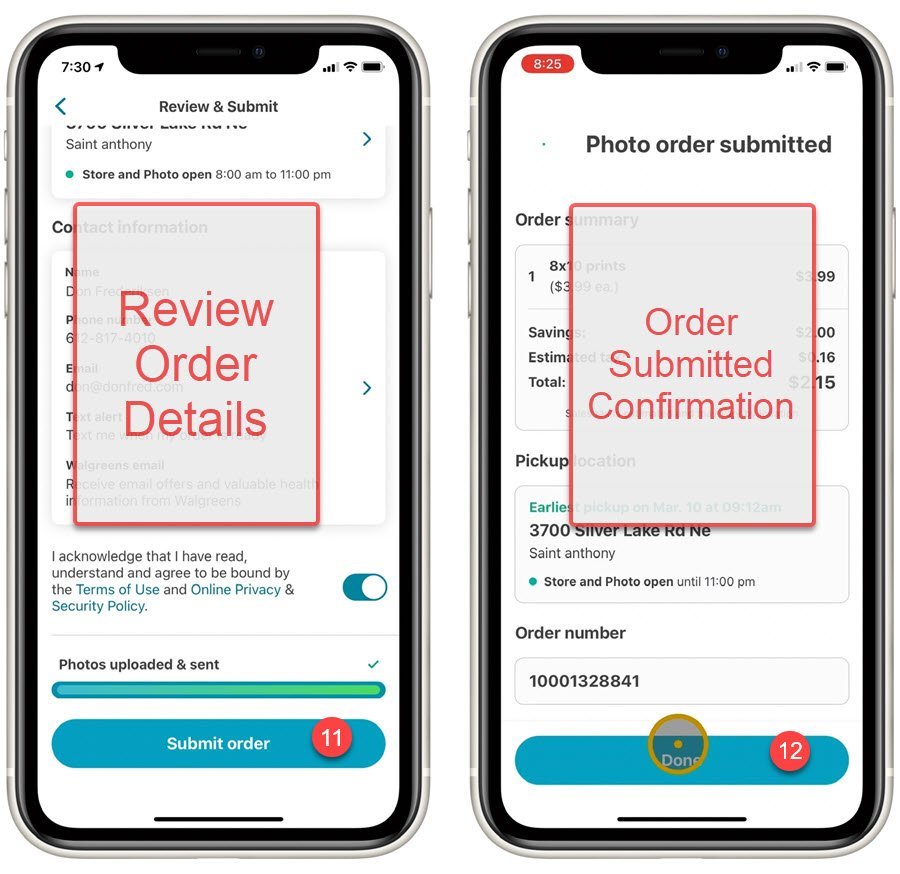 Confirm the order details including the quantity, price and the store where you will pick up the prints.  This is your last chance to change the order.
11 Tap Submit order to send the order to your local store.
12 Review the order submitted confirmation and tap Done to end the process.
This is also a good time to check your email inbox looking for a confirmation that the store has received your order.
When the order is completed, you will also see an email in your inbox instructing you to go to your local store to pick up the order.
No Pictures?  Check your Settings
If you see no photos from your iPhone's photo library, check your Walgreens app settings.  It will need to have access to your Photos.
Launch the Settings app.
Scroll down to tap on Walgreens
The Photos setting should be All Photos.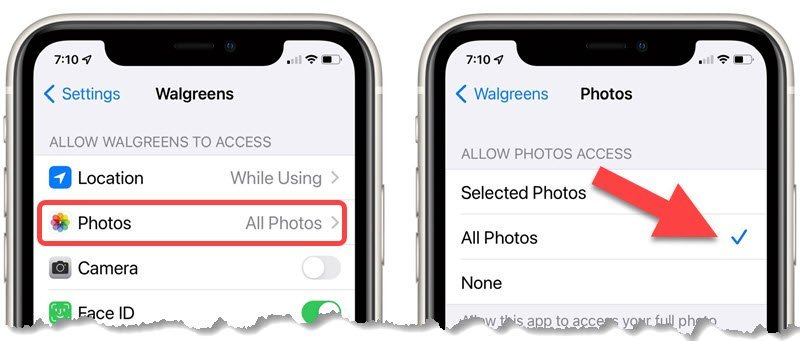 Summary
Occasionally we need photo prints.  The Walgreens app allows you to order prints directly from your phone and go to the store to pick them up, usually in less than an hour.