Silence Unknown Callers – Send Directly to Voice Mail
Online safety and fraud protection organizations implore you to NOT answer unknown callers on any phone. 
Here are tips that we have curated from fraud protection experts.
Never answer a call that you do not recognize.
Hang  up on unwanted robocallers or telemarketers.  Do it immediately.
Never press any buttons on your phone after answering a robocall.
Never engage in conversations with unwanted callers. Just hang up. 
Never call back a number from an unknown caller. If it's important and legitimate, they will leave you a voicemail.
If an unwanted caller gets to your voicemail, do not respond to any message left unless you can verify the purpose of the call.  Remember that the IRS, credit card and tech support companies do not call you directly.  
Put your number on the Federal Do Not Call list. It is far from perfect but can help.
Use built in phone features that will slow down or stop unwanted calls.
This nugget will do what the tips recommend and demonstrate how to use IOS 13's Silence Unknown Callers function to route callers that are not in your contacts directly to voice mail.
The concept is simple. When enabled, your iPhone rings only for calls from phone numbers in your Contacts, Mail, and Messages.
Important Reminder
Despite the benefits of Silence Unknown Callers, it is important to note that this could prevent wanted callbacks from ringing on your phone.  Imagine expecting a return call from someone at a medical clinic and not having the number in your contacts.  Or if you place a call to a contractor or service provider and the expected return call is silenced because the call is returned  from a cell phone whose number is unknown.  
It is easy to turn this function off temporarily if you know that a callback from an unknown number is expected.  
Here are the simple steps to set  up Silence Unknown Callers:
1 Go to Settings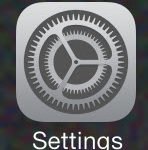 2 Scroll down and tap on Phone
3 Turn on Silence Unknown Callers. (Green is on)
WIth this setup, your iPhone rings only for calls from phone numbers in your Contacts, email and text messages.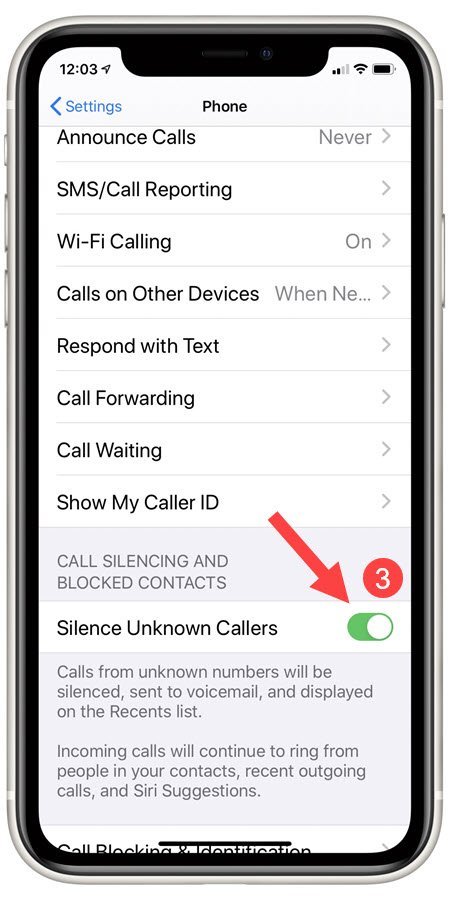 Note on Emergency Calls – When you make an Emergency SOS or 911 call, the Silence Unknown Caller function is disabled for 24 hours to allow calls from first responders and others to ring normally.  
This feature works better if you have successfully captured the names and phone numbers of your friends, family and other contacts in the contacts app.
For more information on the steps to capture contacts, review Recipe #131- Adding and Finding People in the Contacts App.
Block Individual Callers 
Another tool at your disposal to help you manage telemarketers or robo-callers is your ability to block in individual caller.  See the Nugget: How to Block a Phone Number to Prevent it from Calling You for information on how to block one individual number that is pestering you.  
Senior Tech Club Recipes and Nuggets on the Phone app and Calls:
.