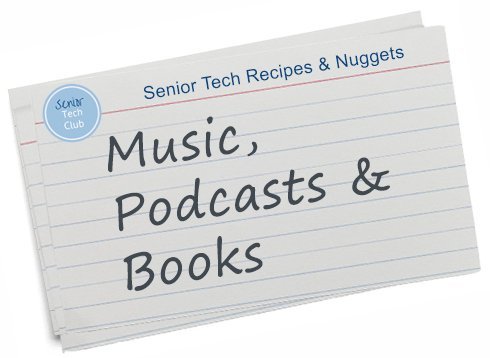 St. Anthony
Senior Tech Time
Recipes and Lessons to help you enjoy music and learn and be entertained by podcasts and books.  Tap or click on any title to retrieve the full online lesson. 
Number
Title
Description
N17
Where to Get FREE Books to Read on your iPhone/iPad

This Nugget reviews some of the sources that you can use to support your reading habit with FREE books.

423
Listening to Podcasts with the Podcasts App

Podcasts are audio programs that are made available on the internet. They are downloaded to your computer or phone for playing anywhere or anytime. 

The Apple Podcasts app is the built-in tool for managing your search, subscription and playback of the podcasts that you choose.  

N41
Buying Music in the Apple iTunes Store

Most people will recognize that Apple changed the music industry and the way that music is sold and distributed.  

This Nugget will walk you through the process of finding and purchasing music that can be played on iPhones, iPads, Mac or Windows machines.

N40
Playing Music in the Music App

Apple Music is the iPhone or iPad app designed to play music purchased from Apple or copied from iTune on your computer. This Nugget will demonstrate its essential functions.

N42
Music Services for iPhone and iPads – What's FREE, What's not

The music industry has changed significantly in the last 15 years, especially since the introduction of the iPhone. Rather than going to a store to buy records and CDs, the majority of music buyers are either buying albums and songs online or listening to music via a streaming service. Streaming music is the latest trend.The purpose of this Nugget is to provide an overview of five major players in the music business. In particularly we want to identify the FREE options that Seniors have and the specific costs of the premium services while identifying what those services offer.
.