Music Services for iPhone and iPads – What's FREE, What's not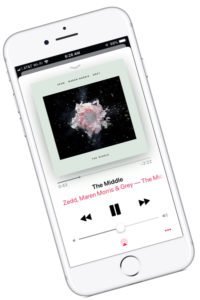 The music industry has changed significantly in the last 15 years, especially since the introduction of the iPhone. Rather than going to a store to buy records and CDs, the majority of music buyers are either buying albums and songs online or listening to music via a streaming service. Streaming music is the latest trend.
The purpose of this Nugget is to provide an overview of five major players in the music business. In particularly we want to identify the FREE options that Seniors have and the specific costs of the premium services while identifying what those services offer.
Here is our discussion about five music platforms that can be played on our iPhones and iPads:
---
Apple Music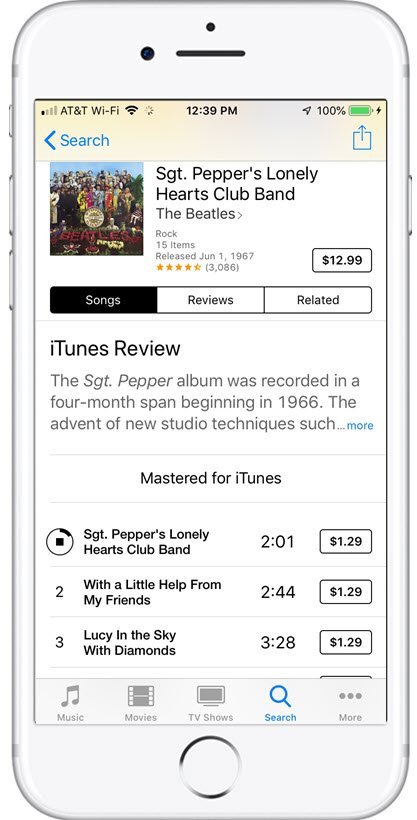 Apple Music and the iTunes store changed the music industry in terms of how music was distributed and consumed. In the Apple Music environment, there is no FREE music with the exception of the Internet Radio Beats 1 that is available in Apple Music app.
However there are three approaches to acquiring music to play on the Apple Music app.
Albums or Songs that are purchased from the iTunes store. Common pricing from 6 to $20 for albums and $.99 to $1.29 for individual songs. This is the classic method of buying songs for plan in Apple music.
Apple Music service provides a music streaming service with a library of 50 millions songs. It also provides multiple pre-made internet radio channels in addition to allowing users to create their own stations. The price of Apple Music is $9.99 for an individual plan and $14.99 for a family plan. You can acquire a 90 day free trial to see if the service meets your needs.
Music imported to iTunes. This might be music acquired from other sources or ripped from CDs or vinyl albums and imported into iTunes.
Amazon Music
Amazon provides an app for the iPhone and iPad. You can use the Amazon Music app to access music that:
Music purchased from the Amazon Digital Music Store. Some songs and albums can be purchased for free but more typical prices for current albums is $7.99 to $19.99 for albums and $1.29 for song purchases.
Amazon Music Unlimited – Amazon Music Unlimited is an on-demand music streaming service that offers access to over 50 million songs. Music is available on-demand and ad-free, with unlimited plays. You can also download music your iOS device for offline playback. The cost is $9.99 ($7.99 with Prime) per month for an individual plan and $14.99 for up to 6 family members.
Prime Music. Prime Music provides ad-free access to more than two million songs and albums as well as Playlists and personalized streaming Stations to Amazon Prime members. Most people join Amazon Prime for access to free two-day shipping and access to Prime Video content for example, the award wining The Marvelous Mrs. Maisel . Prime members access Prime Music at no additional cost to the Amazon Prime cost of $9.99 per month.
Amazon is a savvy retailer and will offer music and services at sale prices reducing your music costs if you follow their emails and marketing programs.
Pandora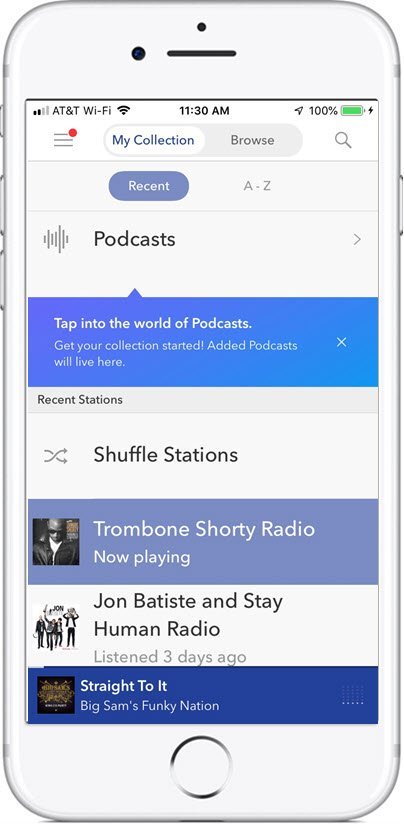 Pandora is a popular music streaming with a popular IOS app from the App Store. Pandora has a library of 30 million songs that it delivers through a radio-style approach, where you enter a song or artist and it creates a "station" of music based on your tastes. You will hear music from that artist and other similar artists. You tweek the stations by giving a thumbs up or down to each song and choosing to add other musicians or songs to the station.
Free Version
The free version of Pandora lets you create stations, but you also have to listen to ads and it limits the number of times you can skip a song in an hour. There is also a limit of 40 hours per month of listening on mobile devices.
Paid Plans
The $4.99 per month Pandora Plus removes ads, lets you download up to four stations offline, removes limits on skips and replays. It offers 30 days free. For $9.99 a month, Pandora Premium gives you all of those features plus the ability to search for and listen to any song, make your own playlists, and listen to all songs offline. A family plan for 6 users of Pandora Premium is $14.99
Podcasts on Pandora
You can also listen to FREE podcasts on Pandora from thousands of podcasters. However, podcasts cannot be downloaded to your device.
Spotify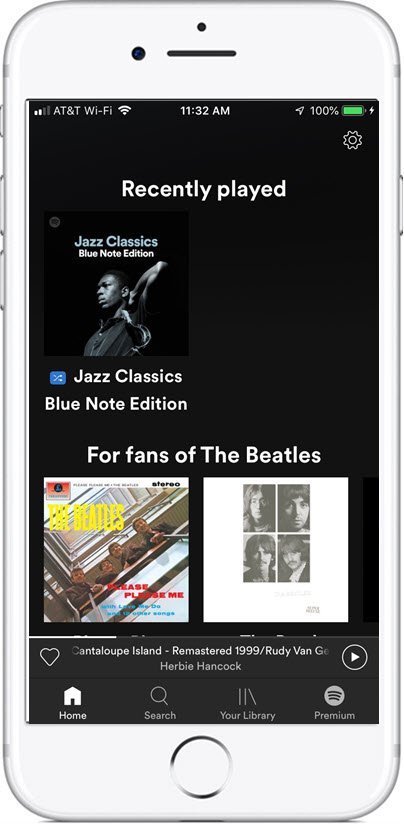 Spotify has been the dominant streaming service and has a larger user community than than any other streaming service. It's music catalog contains over 35 millions songs with a reported 4 million songs that have never been played. .
FREE Spotify
The free Spotify plan is ad supported. With every couple of tracks, you'll hear a 15 to 30 second ad. Also there is a limit to your ability to select a specific tune or album. You will be presented with 750 tracks and 15 personalized playlists. You are also limited in your ability to skip tracks.
Spotify Premium
Spotify users will pay $9.99 ($14.99 for five family members)/month to use Spotify on iOS or desktop devices with an ad free experience. You can also listen to any track, album, artist, or playlist you like at any time in any order with unlimited skips. Basically, you can listen to whatever music you want without any limitations in either the desktop or mobile apps. You can also download tracks to your device for offline listening.
Podcasts on Spotify
You can also listen to FREE podcasts on Spotfiy from most popular podcasters. However, podcasts can be individually downloaded to your device for offline listening.
iHeartRadio
The name iHeartRadio is a broadcast and internet radio platform that includes 850 local radio stations across the country. gives a major hint as to what you'll find in this app: a lot of radio. iHeartRadio brings you live streams of radio stations from across the country, so if you love the traditional radio experience, you'll probably love this app.
FREE Plan
Live radio any time and place while connected to the internet. You can create a personalized artist station and have full access to the podcast library. There are limits to your ability to play any song or skips songs in your stations.
iHeartRadio Plus
Play any song on demand and skip a stations songs as much as you wish. Save songs from the radio to your playlist. The fee is $5.99 per month.
iHeartRadioAllAccess
Provides access to play any song on demand from a catalog of 30 million songs. Listen offline on IOS devices
Podcasts on iHeartRadio
You can also listen to FREE podcasts on iHeartRadio from most popular podcasters and many talk radio show from their radio stations. Podcasts can be downloaded to your device for offline listening.