Finding Places with the Maps App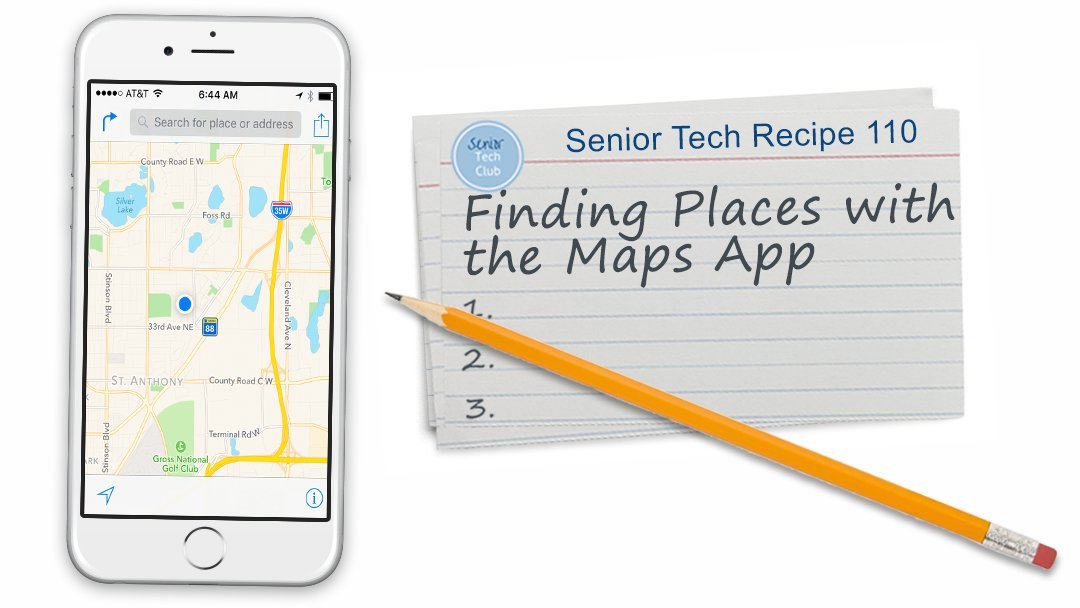 The Maps app is a comprehensive map that not only provides maps, but adds directions, satellite view, traffic, transit routes and interesting places.  And it's best feature might be allowing you to get turn-by-turn directions using Siri, making it a great GPS for your car.
This recipe will provide the basic tools for using the Maps app.
Starting your Maps app.
 
Tap the Maps icon on the Home screen to launch the Maps app. 
There are other maps apps available for your devices.  The Google maps app is an example of an app that many people prefer.  However, because the Apple Maps apps is preferred for Club members because it is already installed and works with Siri and other apps like Contacts.  
A Tour of your Map
After you start the Maps app, you are immediately presented with a map.   Let's take a tour of the Maps app and identify its key elements.
1. Current Location – The first thing you may look for after a map is displayed is Your Location as a pulsing blue dot on your map.
If you can't find your current location it is likely that your location services is turned off using Settings > Privacy > Location Services.  See the Get Help with Maps document in the Additional Information section.
2.  Arrow Outline – The arrow has two functions.
a. Tap to move the map to your current location.  If you have moved the map to view a different location, this will take your map to your current location.
b. Compass lock that changes the map from a traditional North facing map to a  map that orients in the direction you are facing.  In later versions of IOS, a compass will appear on the screen.  Tap again to return to a fixed orientation.
3. Search Bar – See Searching below.
4.  Information – Tap Circle i to access the  information screen.  On this Information screen you can:
Change the map type to Map, Transit or Satellite.  After making your selection, tap X to close the Information screen.  It is fun to change to Satellite to view your home or other landmarks via the Satellite photos.
Add Traffic information.  Turn on (Green means on) to turn your map into a traffic map where congested areas show in red.
Mark a Location – Tap Mark My Location to put a pin drop on the map at your current location.  You can also press and hold a location on the Map to Mark a Location.  Then use those marked locations for directions
Add a Place.  Add frequently visited locations using Add a Place.
Exit the Information screen by Tapping X (close) to return to the map.
Move Around the Map
Move around Map by dragging the screen with your finger. It's easy!
To Zoom in or out. There are two methods to zoom in or out of a map location:
Double-tap with one finger to zoom in; tap with two fingers to zoom out
2. Pinch in for less detail/more area or Pinch out to zoom in with more detail (zoom out) closed. The Pinch method is the most natural on the map.

Go to Another Part of the World
Need to go to another part of the world, another state or a distant city? Use this easy 1-2-3 approach:
| | | |
| --- | --- | --- |
| Use a pinch in to zoom out. You will see more area on the map. Do this multiple times until you see a full country or continent. | 2. Move the map with a finger to a new location, e.g. Europe | 3. Pinch out (Expand) to zoom into your new location. Find central France in Europe pinch out to find Paris. Use your finger to center the map. Pinch more multiple times to get detail. |
| | | |
Search for a place or address
The Maps app is responsive to a number of location searches. Here is a list of example search approaches.
Search
Sample
1.
Address – enter a complete address.
1600 Pennsylvania Ave NW, Washington, DC 20500
2.
Intersection
5th and Hennepin, Minneapolis MN
3.
Landmark
Statue of Liberty, New York, NY
4.
Business Establishment
Nordstroms, Bloomington, MN
5.
Class of business

Coffee, shopping, coffee, restaurants, etc

Nearest Coffee
Close a search location by tapping X (close)
Retrieve recent searches by swiping up from the search bar
Get Directions
Here is a step by step process to get directions to a location on your map:
Start the process:  What is your destination?
You can either search using the Search bar (Fat Nat's, below,  is a restaurant near my home) or move the map and Mark a location by pressing and holding at a location on a map.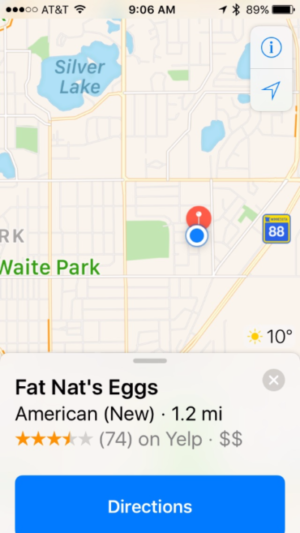 From the marked location on the map above, tap Directions to have the Maps app propose one or more routes.
Tap Go and you will be given turn-by-turn instructions on the primary recommended route.
On the screen with the proposed routes, the recommended route is the darker blue.  Tap a lighter blue route to select the alternative route.  You can compare times and distances when you select the alternative routes.  At the bottom of the screen, you can also choose to see Drive, Walk, Transit, or Ride routes.
Transit provides information from your local public transit provider.
Ride would link to ride Apps like Uber or Lyft.  These apps would need to be installed on your device previously.
Turn-by-turn audio route instruction will begin.  After you have arrived at your destination, tap End to end the display of direction information.
During directions, you can move away from the Maps screen to make a call or look up information.  Return to the Maps screen by touching the blue bar as shown below.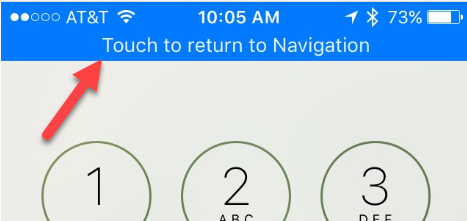 Smart Tip:  Yelp Extension
Apple has worked with a number of developers to support extensions to the Maps app that will allow you to hail Uber rides, make dinner reservations and get business information without leaving the Maps app.  The Senior Tech Club recommends the Yelp app and its map extension.  It will allow you to see the business recommendations, ratings and other information from the Yelp.com website.  Install the Yelp app from the App Store and the business information will display on the map.
Using Maps with Siri
If you intend to use your iPhone as a GPS direction system in your car, Siri is an essential partner in the effort.  Siri's capabilities and functions are explored in the STC Tech Recipe: Getting to Know Siri.  
Summon Siri by holding down the home button or saying "Hey Siri."  Make your your request starting with "Directions."   Siri will provide the audio directions with this command.
Here are examples:
Directions to Yellowstone National Park?
Directions to Target Field?
Directions to the nearest Mexican restaurant?
The Maps app will also respond to "Find" instruction to locate a place on your map.  Here are examples:
Find the Golden Gate Bridge?
Find Mount Rushmore?
Find the nearest gas station?
Find the nearest Post Office?
Like all commands with Siri, strive to be direct and simple. There is no need to say please and thank you. Soon she will become very responsive to your requests.
Smart Tip:  Distracted Driving is Dangerous and often Illegal
Do not try to operate your iPhone while driving.  It is extremely dangerous and is also illegal in many states.  Just don't do it.  Siri can help or pull over to give your instruction.
Additional Notes and Tips
Maps and Navigation will use cellular data when in your car.  You should find the amount minimal.
Bluetooth connections to your car's audio or cars with Apple CarPlay make it easier to use your iPhone turn-by-turn directions.
Don't forget to end Navigation when finished.  Otherwise it will use up battery.
Check for Understanding
Use the following questions to determine if you need to read or study this recipe.  You might already have an understanding of this topic. Following your study, answer the same questions to help you check your understanding of the skills taught in this lesson.
Question 1
Question 2
Question 3