The Hidden Functions of Share
Your iPhone apps will have many hidden functions that are accessed using the Share icon.  Given the number of options that are presented with Share it almost makes the function magical.  Magic can occur when you tap Share.
Many of the apps on your iPhones and iPad will prominently place the Share icon on the upper or lower bar of the screen.  At the Senior Tech Club, we reference this icon as the Share icon, its traditional name.  More recently Apple has been referring to the icon as the Action icon.  This is perhaps to to better reflect the expanding role of the Share action in your apps.
Where to Find the Share Icon
Here are examples of the Share icon found on some of your favorite apps.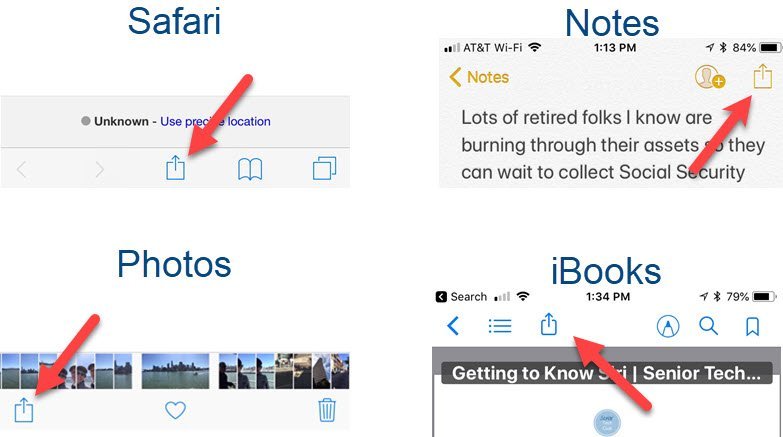 As a hidden nugget on your iPhone, when you wish to perform an action in the app you are using, start with the Share icon.  Get to know the common actions available in the apps that you use.  Common examples would be sharing information with another person or another app, printing, saving, copying, finding and more.
Common Examples of Share Action
When you tap the Share (Action) icon in any app, you will be presented with three rows of share options.  Here are those options and common examples of share actions.
1 AirDrop – The top row of options relates to Airdrop. AirDrop is an Apple sharing feature that allows you to share files, photos and other information instantly from your iPhone or iPad to another Apple device that is nearby.
On your iPhone you will see the names of users and their devices. Simply tap a name in order to share with that device.  The other individual will need to Accept the transfer for it to be share.  
2 Apps – The second row of share options if for sharing the current picture, file or contact with with another app on your device.  The options that you have in this row will depend on the apps that are installed. 
If you want to share a picture using a text or email, choose those apps from the second row.
3 Actions – The third row of share options provide actions that are available from the current app.  These actions will perform functions like print, copy, save actions.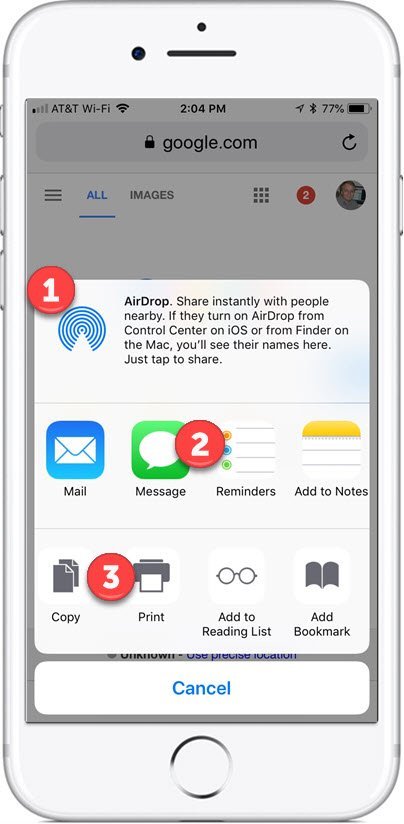 Summary
The Share/Action icon contains a number of hidden functions including sharing information with other people and apps and performing actions like print, copy, save and more.  Tap the Share icon to explore those functions in your favorite apps.
Tip
Take some time to explore and get to know the Share actions with the apps that you use.  There are so many hidden functions available.
Setup
No Setup necessary
Requirements
Requires IOS: 9+
Works on iPhone and iPad