Have you ever gone to a mall, a festival or other  big event and then forgot where you parked your car?  You might have parked on the street and walked several blocks without even looking at a street sign.
It can be pretty embarrassing….
But good news…. there is a feature in the iPhone Maps app that will automatically mark the location of your parked car on a map.  It can be a life saver.
Setup
The only setup is that you are using Bluetooth in your car to do hands-free calling or for listening to music or podcasts.
Once you are using your car's Bluetooth function to listen to music or make hands-free calls, the Apple Maps program will automatically mark the location your car when Bluetooth is disconnected.   You can launch your iPhone Maps app and find your parked car as shown on the map below.
How Does This Work?
When you disconnect iPhone from your car's CarPlay or Bluetooth system and exit your vehicle, a parked car marker is dropped in the Apple Maps app.  This allows you to easily find your way back to your car.  
This function only works with the Apple Maps app.  It does not work with other GPS or map apps like Waze or Google Maps.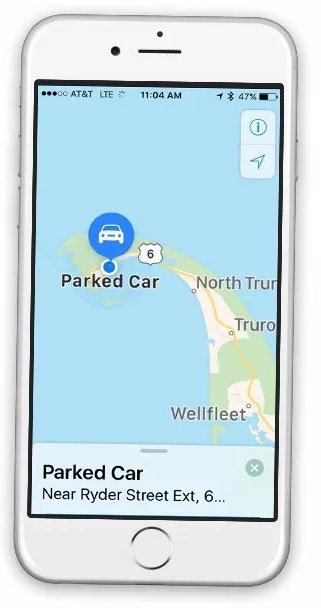 Senior Tech Tip – Use the Satellite View
From the map picture above, you may not find the map location useful if you are looking at the mall's parking lot or parking at an event.   Consider switching to the satellite (picture) view  in order to align your car's location with parking rows or other visible marks in the lot.  With the satellite view you can see parking rows, buildings and even trees that may provide useful landmarks.
Change to the Satellite view with the following actions: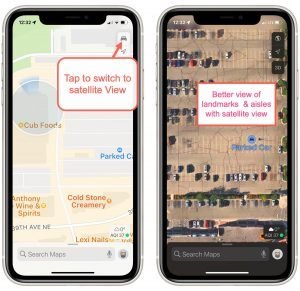 Here are the steps to switch map views to use the satellite map image.  
Tap Icon  on the upper right corner of your Map
Tap Satellite
Touch X to close the view selection pane and display the new view
Return to Explore, Driving or Transit view with the same actions.  
The Satellite view will display as shown above.  Notice how you can see rows of cars in the parking log.  The landmarks make it possible to walk directly to your car using the satellite picture.  Please note that the satellite view is not real time and may be a picture from months or even years ago.
Smart Tip:  Parked in a Ramp? Take a Picture
If you park in a large parking ramp, the Parked Car location is not able to show you the the floor where you are parked.  This is a perfect place to snap a quick picture of a reminder like the sign that displays your floor number or other identification.
Know this tip!
Even if you prefer to use a different GPS app on your phone, for example. Google Maps or Waze, you can still find your parked car location in the Apple maps app.  This map marking occurs in the background.  The Apple Maps apps does not have to be in use!