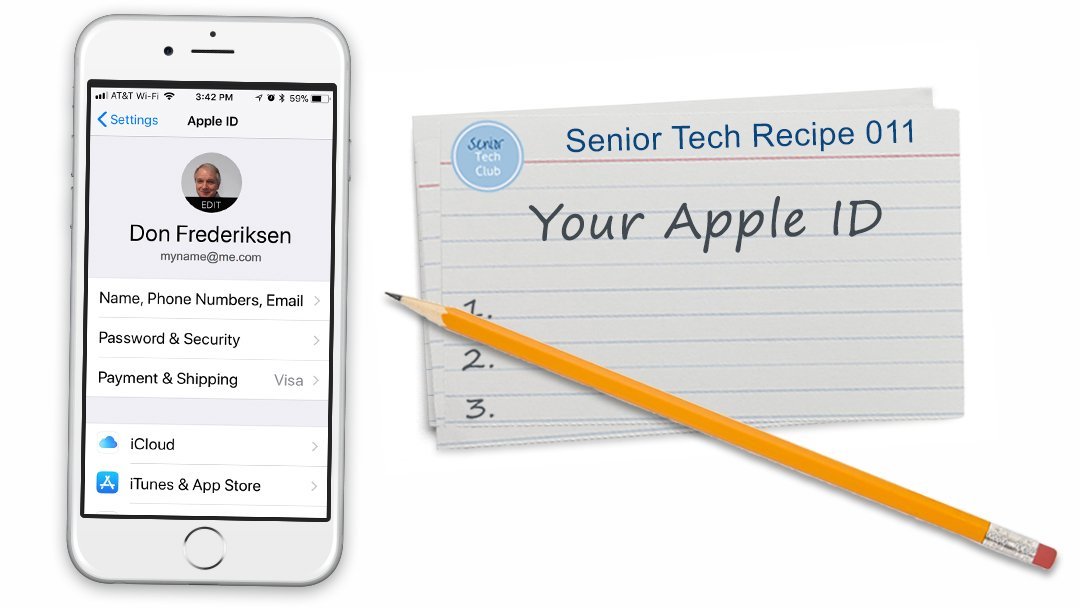 If you want to use your iPhone or iPad to help you stay connected and engaged and use your device for more than simple calls and text messages, you will need to know and understand your Apple ID.
This recipe will help you understand the role of your Apple ID and provide tips and links to the Apple sites where you can manage the ID information.  The Additional Information section of this Recipe also contains links to key Apple sites for managing your Apple ID.
Get to Know your Apple ID, Your Account for Everything Apple.
An Apple ID is the login and password combination for the personal account you create with Apple and use to access Apple services like the App Store, iTunes Store, iCloud, iMessage, the Apple Online Store, FaceTime, and more. It includes the email address and password you use to sign in at iCloud.com.  It will also enable you to set up all the contact, payment, and security details that you'll use across Apple services.  It is one account for all of your Apple services.
---
Smart Tip: Know your Apple ID
If you want to more fully use your Apple device, it is essential that you know your Apple ID and password.
---
Initial Setup
Most people will setup an Apple ID when they perform the initial setup of their device.  In this process, you will identify your name, birthday, email, password and three security question, e.g. What is the name of your first pet?
If you are performing this setup, take your time and be deliberate in your responses.
Change your Apple ID settings.
Go to Settings > [your name] to update your contact information, change your password, upgrade your iCloud storage, manage Family Sharing and subscriptions, and more.
Forgot Your Password?
If you have forgotten your password or need to manage other elements of your Apple ID, go to the website: appleid.apple.com
Tips for keeping your Apple ID secure
Good online security requires a combination of common sence and good practice.  Below are some tips to follow to maximize your security when using your Apple ID and other online accounts.
Use a strong password.  Your Apple ID should be secured with a strong password.  Follow the recommendations on the Senior Tech Club lesson Strong Passwords for Safe Data
Don't use your Apple ID password with other online accounts. Create unique passwords.
Choose security questions and answers that can't be easily guessed. Your answers can even be nonsense as long as you can remember them. Your security questions are used when you wish to reset your password if it is forgotten or lost.
Set up Two-Factor Authentication to secure your Apple ID beyond what a password can do.  See How to use Apple's Two-Factor Authentication to Secure your Personal Data
Additional Information
The Senior Tech Club recommends the following additional resources for members that wish to pursue additional and/or advanced information on this recipe:
Apple ID – Frequently Asked Questions