Use iPhone Spotlight Search to Find Apps, Get Reminders, News and More
Have you ever lost an app on your iPhone.  You've scanned all of your Home screens and just don't see the app that you know is on your iPhone.  Or you have simply lost a document, marked location, text message or something else on your iPhone or iPad.  IPhone Search may be the answer.  
The Search function on your iPhone gets results from your apps but also from the Internet, from  Maps and Contacts and more.
Naming challenge
Most of the experts and resources call this function Spotlight Search.  But when you view Apple documentation, they just refer to it as iPhone Search.  In this Nugget, we'll show you what it can do.  And we will call it Spotlight Search.  
Access Spotlight Search – New for IOS 16
Tap the Search Button
With IOS 16, a new Search button was added to the bottom of every Home screen.  
Tap the Search button as a quick way to access Spotlight Search.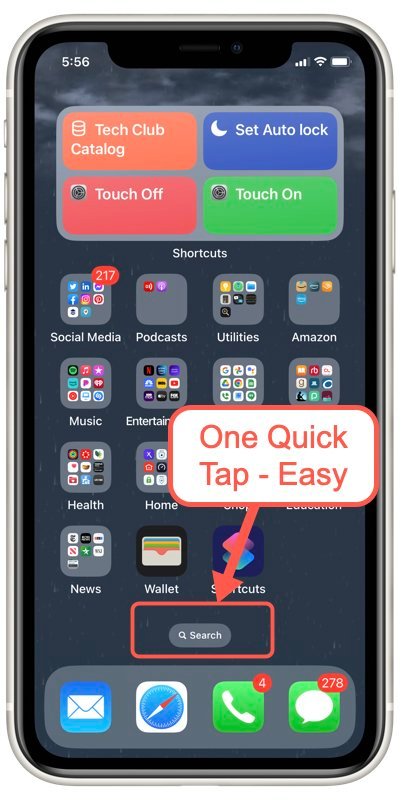 Access Spotlight Search – All iPhones
To use Spotlight Search swipe down from the center of the Home screen.  You can also think of it as pulling down from a blank space in the middle of the Home screen.      Try to place your finger on a blank spot of the iPhone Home screen without tapping an icon and gently swipe/pull down to the button of the screen.
So consider this "flick" approach.
Find a blank part of the Home Screen.
Flick down from that spot with your forefinger.
You can also access Spotlight Search from your lock screen.  Use the same action.  
What can Spotlight Search Do?
There are many practical and everyday uses for the iPhone Search.  You simply begin to type in the Search Bar.  And many times you don't even have to type a full word to search for an item.  
Practical uses for search:
Find apps that are "lost."

Find a contact by typing a name.

Get current temperature.

See news headline

Do calculations.  Type 29.67 * .2 to calculate a 20 percent tip.  
Advanced 1 – Use Search to find a setting in the Settings app that you have forgotten.  For example to find how to control the timing on the lock screen type "lock screen" into the Search bar. 

Advanced 2 – Tap the microphone to dictate your search term
Clear your Search
Like many Search Bars, you can clear a search by tapping on the x at the right of the search bar.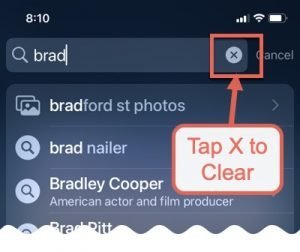 Clearing the previous search will set you up for your next search phrase or keyword.
Summary
Use Spotlight Search as a quick and convenient way to search for lost apps, contacts or really any information that is on your iPhone.  
Additional Information
The Senior Tech Club recommends the following additional resources for members that wish to pursue additional and/or advanced information on this recipe:
iPhone User Guide – Use iPhone to Search