Revisiting Spotlight Search
Spotlight Search on your iPhone or iPad is an awesome resource.  And this week I learned a couple of new capabilities that I wanted to share.  
Spotlight Search is the search function that you access by swiping down from the middle of your home screen.  See the featured nugget below for a more detailed description about accessing the search function.
The most prominent element of the Spotlight Search function is the Search bar at the top of the screen.   So what can you type (or dictate if you use the microphone next to the space bar on the keyboard) into the search bar?  That is the surprising thing about spotlight search.  You can make so many types of requests.  New for me this week included:
Getting the current temperature without launching the Weather app.  Simply type (or say) "current temperature."
Calculating a tip at a restaurant without launching the Calculator.  Simply type 29.67 * .2 (if the service was good.)
Locating a nearby business without launching Maps.  Simply type "Target."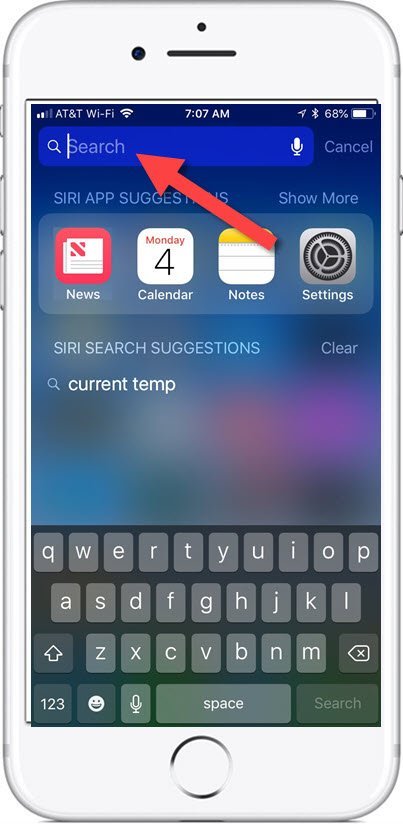 These search capabilities are in addition to the one search function that I use every week.  That is, finding an app on the iPhone.  It might be an app that is buried in a folder on some screen and you simply type the name of the app into the search bar to find and launch it.  There are just a couple of apps that I use occasionally that I wouldn't be able to find without scanning Home screens.  
Get more ideas about Spotlight search in our Featured Nugget below.  
Have you ever lost an app on your iPhone. You've scanned all of your Home screens and just don't see the app that you know is on your iPhone. Or you have simply lost a document, marked location, text message or something else on your iPhone or iPad. IPhone Search may be the answer.
The Search function on your iPhone gets results from your apps but also from the Internet, from Maps and Contacts and more.
NAMING CHALLENGE
Most of the experts and resources call this function Spotlight Search. But when you view Apple documentation, they just refer to it as iPhone Search. In this Nugget, we'll show you what it can do and you can call it what your want!.
Get Started with a FREE Trial Membership
We have affordable membership plans that will offer ongoing and affordable learning from the Senior Tech Club.  
However, if you have questions, the best way to get a feel for the club is to sign up for a FREE trial membership.