Protecting Your Data and Privacy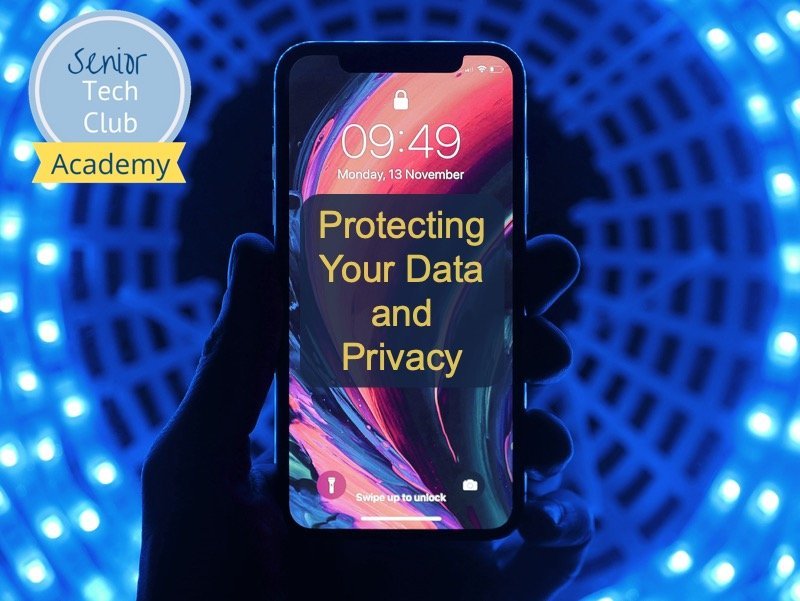 As more of us are leading digitally active lives, we also face more risks with our identities, privacy, credit and device security. Education and tools are our best defense. Education means learning about the risks that we face and understanding best practices to keep us safe. Awareness and use of the tools that are available to us should be part of your action plan.
The tools that you have will only help you if they are used and understood.
We have distilled the best advice from cybersecurity experts who recommend key steps to help keep you safe online. These steps include:
Mobile Device Security. Your devices carry a lot of information about you and your life. We will help you take action to help ensure your devices are secure with passcodes and FaceID or TouchID.
Passwords are a challenge for many in our community. Your action plan needs rules for creating, using and remembering strong passwords. Your Apple devices have tools like Keychain that will help.
Multifactor/Two-Factor authentication seems like a hassle to many. Let's define, understand and endorse it so that we can make it a habit where it is available.
Be Smart about WiFi. Using unsecured public WiFi can be a security concern. We will help you understand the issues and possible actions including using a VPN. We want to help you understand.
Let's identify a range of tools that are available on your iPhones and iPads that are intended to keep you safe.
Education, awareness and tools are an important part of your security plan. The objective of this class is to increase your awareness about online safety and present action steps that will help make your digital life more secure.
Please understand that no class can identify or protect you against every type of crime, fraud, or threat. But we hope that your learning from this class is a significant step toward your online safety.
Senior Tech Tuesdays
Enrolled Students can gather online using Zoom every Tuesday morning at 10 AM CT to ask questions and explore important course topics. Every week you will receive an email identifying the week's lessons that you should explore during the weeks. In the Tuesday Zoom sessions we will explore questions that student have entered at the bottom of the lessons or new questions that are posed during the session.
The Sessions are casual and always informative.
Can't make a Tuesday session? We will record the video and publish the video in the class lessons below.
Course Lessons
Resource Page - Links and Resources Cited
Week 1 - Passcodes, Touch ID & Face ID - April 19, 2022
Week 2 - Apple ID, Two-Factor Authentication & Strong Passwords
Week 3 - Using Apple Keychain Password Manager
Week 4 - Apple & Your Privacy